The July 12, 2009 Yokohama Bunka Taiikukan BJW Event is shaping up to be quite interesting. The main event features BJW Champion YUKO MIYAMOTO facing off against challenger MASASHI TAKEDA in a championship bout. This is no ordinary bout. It is being billed as a Construction Site Death Match and features high scaffolds. This will certainly be a difficult and dangerous challenge for both wrestlers.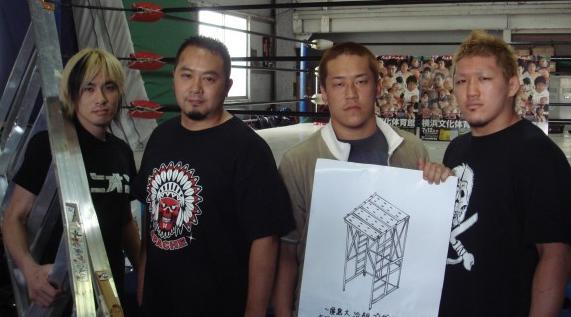 At the June 15th press conference Yuko Miyamoto expressed that he wasn't happy about giving up two losses to Takeda in the Saikyo Tag League recently. He went on to say that deathmatch matches are his turf and he is going to handle Takeda's challenge full on. Conversely, Takeda said that he has only been wrestling death matches for less than year. Takeda didn't think he'd get a big chance so soon and promised to put on a great match and be victorious.
This event will also feature a ladder death match between Takashi Sasaki and Isami Kodaka. Death match legend mentioned that although Kodaka has gotten stronger psychologically and despite his doing well in the Saikyo Tag League, a single match is a totally different situation. Sasaki guarantees he will triumph and put a big hurt onto the smaller Kodaka, showing him just how scary a death match really is.
There will also be a six man tag death match between the team of Ryuji Ito, Shadow WX, and Kankuro Hoshino versus the team of Jun Kasai, "Kokutenshi" Jaki Numazawa, and Abdullah Kobayashi.
Other matches will be held but the complete card has yet to be determined.
Tickets are available at the usual Japanese ticket outlets. People who have difficulty using such outlets are advised to contact
Big Japan Shop
http://www.bigjapanshop.com
for assistance.