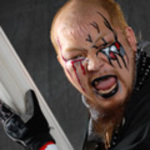 BJW Jaki Numazawa and Masashi Takeda to invade CZW at 2011 Tournament of Death X
BJW and CZW have confirmed that Big Japan Pro Wrestling extreme Japanese hardcore death match superstars The Black Angel "Kokutenshi" Jaki Numazawa and up and coming young blood Masashi Takeda are heading to the US. On June 25, 2011 these B.J.W. deathmatch pro wrestlers will do battle with the best that CZW has to offer.
Keep checking back with us here and the good folks at Combat Zone Wrestling for more details as they unfold. 2011 looks to be a great year for hardcore death match pro wrestling around the world!!!
CZW Official Site:
http://www.czwrestling.com/
BJW English Site:
http://bjw-usa.com/
Big Japan Shop & BJW English Site TWITTER:
http://twitter.com/BigJapanShop