Craig Classic vs Munenori Sawa March 6, 2011 Zero One Ryogoku Tokyo Japan
It is our pleasure to announce that Craig Classic, who made his debut in Japan with BJW Big Japan Pro Wrestling and is the reigning NWA World Jr. Heavyweight champion and will defend his belt in Japan on March 6, 2011 at Pro Wrestling Zero-One's 10th Anniversary extravaganza in the 13,000 seat Ryogoku Kokugikan.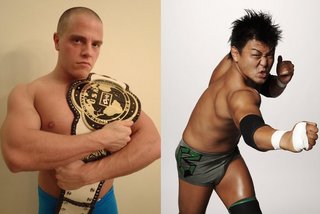 BJW-USA, Big Japan Shop, and all of Craig's Japanese sponsor companies wish him the best of luck in what will no doubt be the best bout of the evening. Check out the great card Puroresu 01 put together for their anniversary. BJW had a great card for their 15th anniversary last year, and it looks like Zero One also has a star studded card with some potentially awesome matches.
The official details from Craig Classic's official Facebook page:
Pro Wrestling Zero-One
ZERO1 10th Anniversary
Tokyo, Japan
March 6th, 2011
Ryogoku Kokugikan
FIGHT CARD
Single Match
Shinjiro Otani (ZERO1) vs. Yoshihiro Takayama (Takayama Hall)
Single Match
Ikuto Hidaka (ZERO1) vs. Takafumi Ito (PANCRASE-ism)
Destruction Prince Daichi Hashimoto Debut Match
Masahiro Chono (ARISTRIST) vs. Daichi Hashimoto (ZERO1)
Single Match
Masato Tanaka (ZERO1) vs. Yuji Nagata (NJPW)
NWA World Jr. Heavyweight Title
Single Match
Craig Classic (NWA) vs. Munenori Sawa (BattlArts)